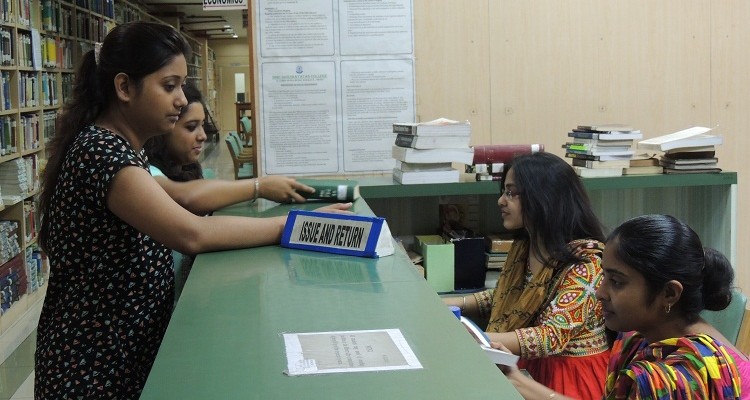 Library
The college has an air conditioned computerized open access library with a collection of about 38,000 books apart from various journals, magazines and news papers. The General Library has internet facilities for the students. In addition there is a Seminar Library in each Honours department for ready access to books. A Book Bank facility is also available for the underprivileged students of the college.
General Library: The rapid evolution of information and communication technology in the learning field imposes and stimulates the re-engineering of the library. Our library has changed in past few years and ever new ways of creating, storing, organizing, and providing information have been evolved.. The library remains responsible for acquiring or providing access to books, periodicals and other media that meet the educational and informational needs of its users in a stimulating, scholarly environment conducive to academic pursuits.
Unique features
Situated in the ground floor spread over 4200 sq ft
Fully air conditioned
Computerized and digitized operations including entry/ exit
Open access library
Online search
More than 42,000 books
Various E-journals, journals, magazines and news papers
Internet facilities for the students: The college has an exclusive internet room equipped with HP Workstations to be used by students for educational purpose and viewing online journals.
Seminar Library in each Honours department
Book Bank facility for the underprivileged students
B.Ed Library: B.Ed Library of Shri Shikshayatan College was established in the year 1963. Since its inception the library has developed as a separate and indispensable unit for B.Ed catering to the academic needs of the B.Ed department.
Unique features
Situated in the first floor
Fully air conditioned
Computerized and digitized operations including entry/ exit
Open access library
Online search
More than 6,500 books
Various E-journals, journals, magazines and news papers
General Library Routine
Library Hours : 07:30A.M. to 5:00 P.M. (Mon. to Fri.) 9:00 A.M to 2:00 P.M.(Sat.)
The services of the following sections of the College Library will remain open , as below :
Lending Section (Issue & Return) : 9 A.M. -4:30 P.M. (Mon to Fri) , 9 A.M. – 2.00 P.M. (Sat)
Reading Room : 7.30 A.M. -5 P.M.(Mon. to Fri.) , 9.00 A.M. -2.00 P.M. (Sat)
Photocopying Service : ( Mon to Fri) 9.00 A.M. – 1.15 P.M. (Time of Placing Requisition), 2.00 P.M. – 4.00 P.M. (Time of Delivery)
Property Counter : 7.30 A.M. – 5.00P.M. (Mon to Fri) , 9.00 A.M. – 2.00 P.M. (Sat)